Recently there has been a coral disease outbreak along the Florida Reef Tract that has impacted numerous species of stony corals.  We would like the GCFI community to be aware of this outbreak and on the lookout for it throughout the wider Caribbean region. Please see this information sheet and revisit this page often for more information as it becomes available.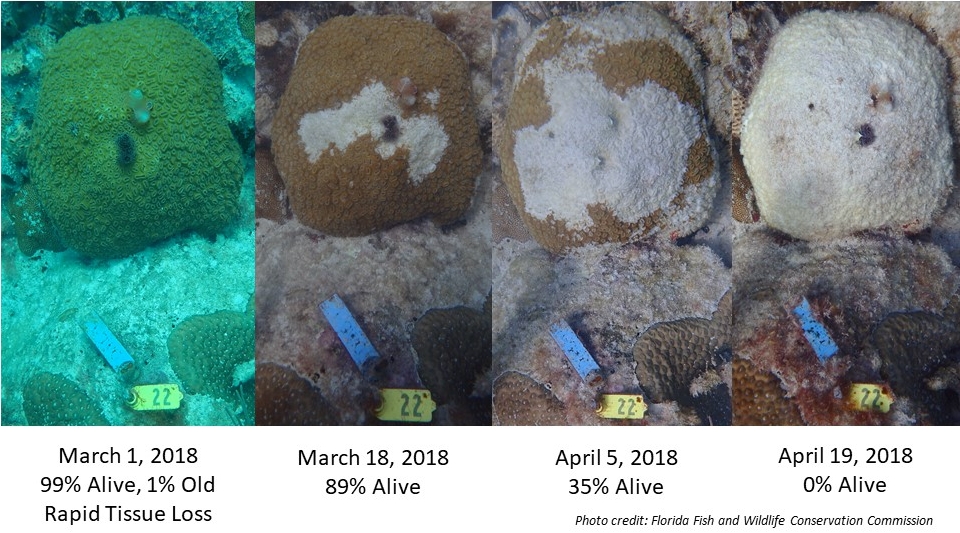 ---
---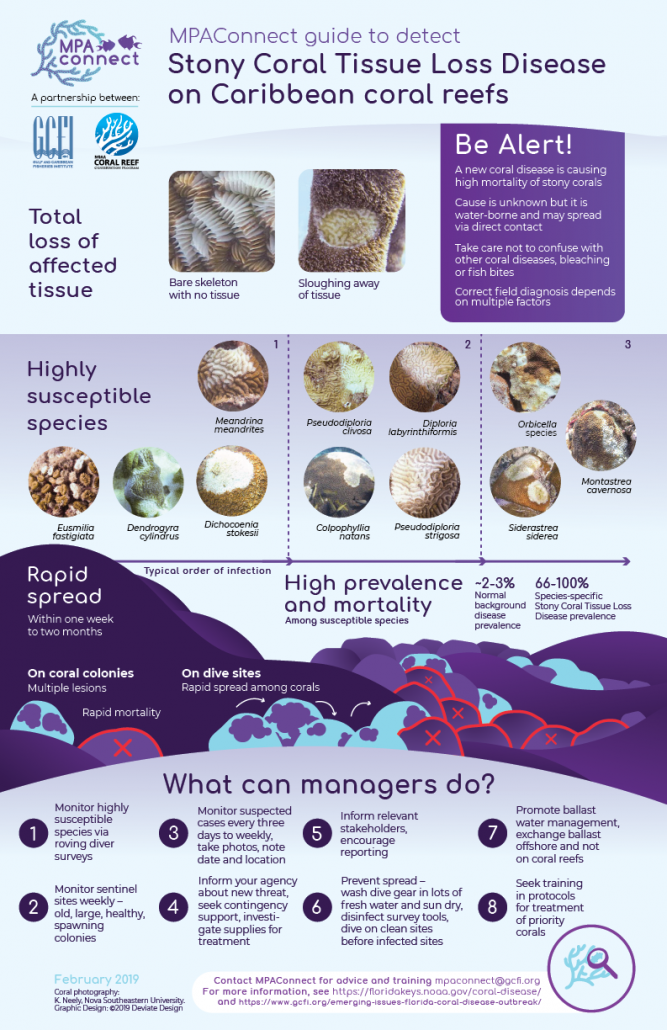 A new guide from MPAConnect, a partnership between GCFI and NOAA Coral Program, seeks to help Caribbean marine natural resource managers who are responsible for priority coral reef marine protected areas to be on the alert for this disease and to detect whether it is occurring on their coral reefs.
Stony Coral Tissue Loss Disease spreads rapidly and affects some of the slowest-growing and longest-lived reef-building corals, including the iconic brain corals, star corals and pillar corals. Scientists are uncertain about the cause of the disease, but it appears to be water-borne and can be spread by contact.
This disease is now appearing in parts of the Caribbean, including Mexico, Jamaica and the US Virgin Islands, and it is also suspected in some other locations. Early detection of the disease and its correct identification are important to permit actions to monitor, treat and restore affected coral reefs.
Through this new infographic we're making the latest knowledge about this emerging threat to coral reefs accessible to marine protected area (MPA) managers across the Caribbean region. The poster summarizes the key technical knowledge needed for the detection and identification of Stony Coral Tissue Loss Disease, as learned during an exchange visit to Florida for Mexican MPA managers at the end of 2018. We're pleased to now share this knowledge with other managers in the MPAConnect network and beyond. The poster has been translated into French and Spanish and all the versions may be found here:

Scientists responding to stony coral tissue loss disease in Florida are consulting with resource managers throughout the Caribbean where disease outbreaks in the U.S. Virgin Islands, Mexico, Jamaica, and St. Maarten share some of the same signs and patterns as stony coral tissue loss disease. However, making a connection between Florida and similar outbreaks in the Caribbean will be difficult until the responsible pathogen or other causative agent is identified. That investigation is ongoing.
The Florida response team, consisting of more than three dozen government agencies, universities and conservation organizations, is exchanging information with resource managers throughout the region, including disease interventions and treatments. As global and local threats to coral reefs increase in frequency and severity, natural resource managers are combining their limited resources to strategically address common challenges.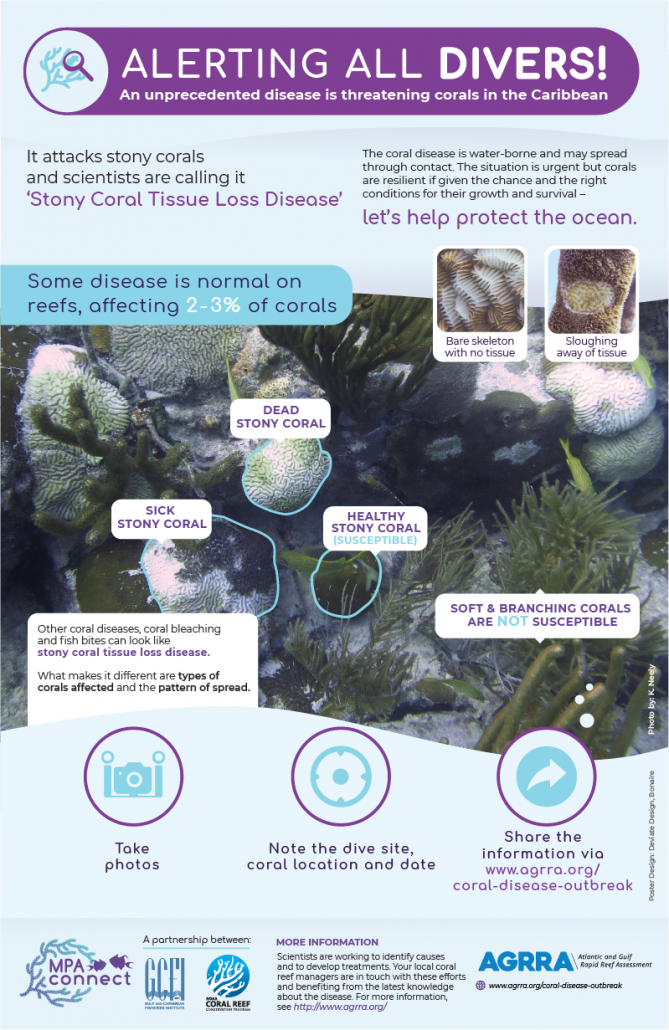 DIVER AWARENESS
An additional infographic was created to share the latest knowledge about this emerging threat and to raise awareness amongst divers.  The poster has been translated into French and Spanish and all the versions may be found here: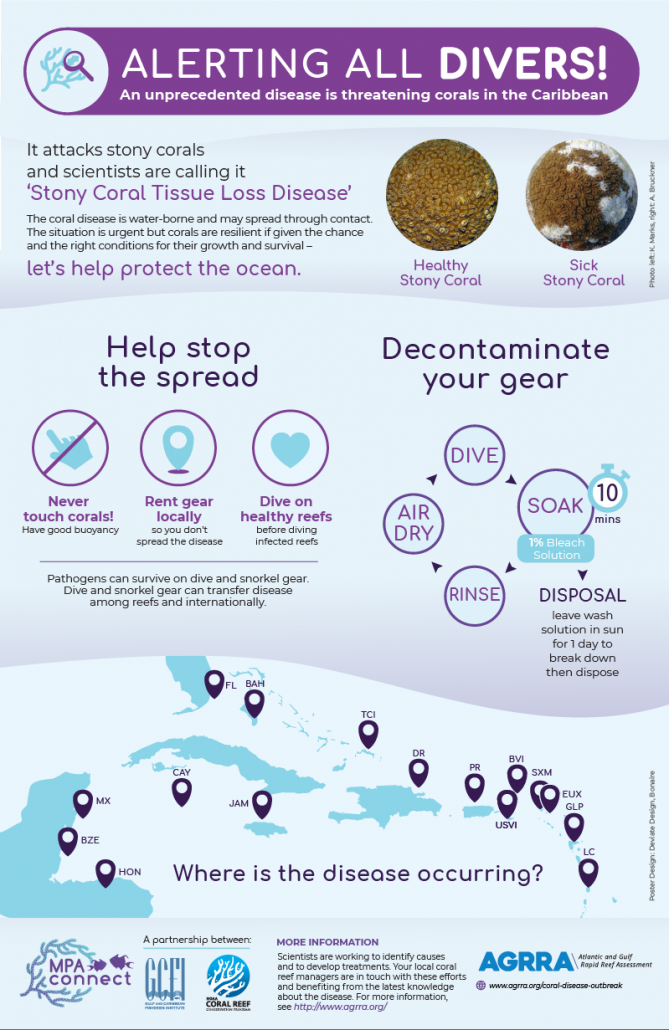 DECONTAMINATION OF DIVE GEAR
An additional infographic was created to share the latest knowledge about this emerging threat and to raise awareness amongst divers on decontaminating gear.  The poster has been translated into French and Spanish and all the versions may be found here: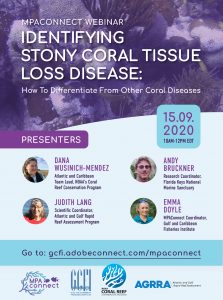 STONY CORAL TISSUE LOSS DISEASE WEBINAR
A webinar on Identifying Stony Coral Tissue Loss Disease was hosted on September 15, 2020
You can access a recording of this webinar along with the slides of the presentations by Judith Lang and Andy Bruckner