May 4, 2018. The Gulf and Caribbean Fisheries Institute is pleased to launch a new infographic guide for the tourism sector on to how to respond to the sargassum influx, and best practices to apply if cleaning beaches.
---
In recent years, massive quantities of pelagic sargassum have come ashore in the Caribbean, impacting shorelines and beaches, waterways, fisheries and tourism. The response to the sargassum influx has often been a knee-jerk reaction – uncoordinated and not always environmentally sustainable.
Bad choices that are made in responding to sargassum place at risk the very resources upon which tourism depends – poor beach cleaning practices cause the loss of sandy beaches, worsened coastal erosion, the destruction of sea turtle and sea bird nests. But important lessons have been learned.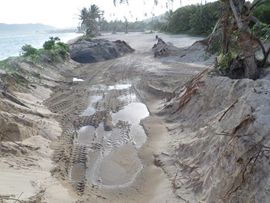 Beach damage due to heavy machinery (Photo: E. Doyle)
As the organizer of the region's largest annual marine science meeting, the Gulf and Caribbean Fisheries Institute (GCFI) has brought together researchers and coastal managers to examine the latest advances in science and to share management experience in relation to this emerging issue. A GCFI Fact Sheet about the sargassum influx addresses frequently-asked questions. A briefing paper prepared with key regional partners provides guidance for coastal managers.
Now in early 2018, with an influx of sargassum again affecting parts of the Caribbean region, the Gulf and Caribbean Fisheries Institute is responding to the tourism sector's urgent need for information on how to deal with this recurring phenomenon.
"The new GCFI sargassum poster contains practical guidance for the owners, managers and staff of beach-front hotels, resorts and coastal properties who are grappling with how to respond to the sargassum influx," explains Emma Doyle, Vice Chair of the Gulf and Caribbean Fisheries Institute.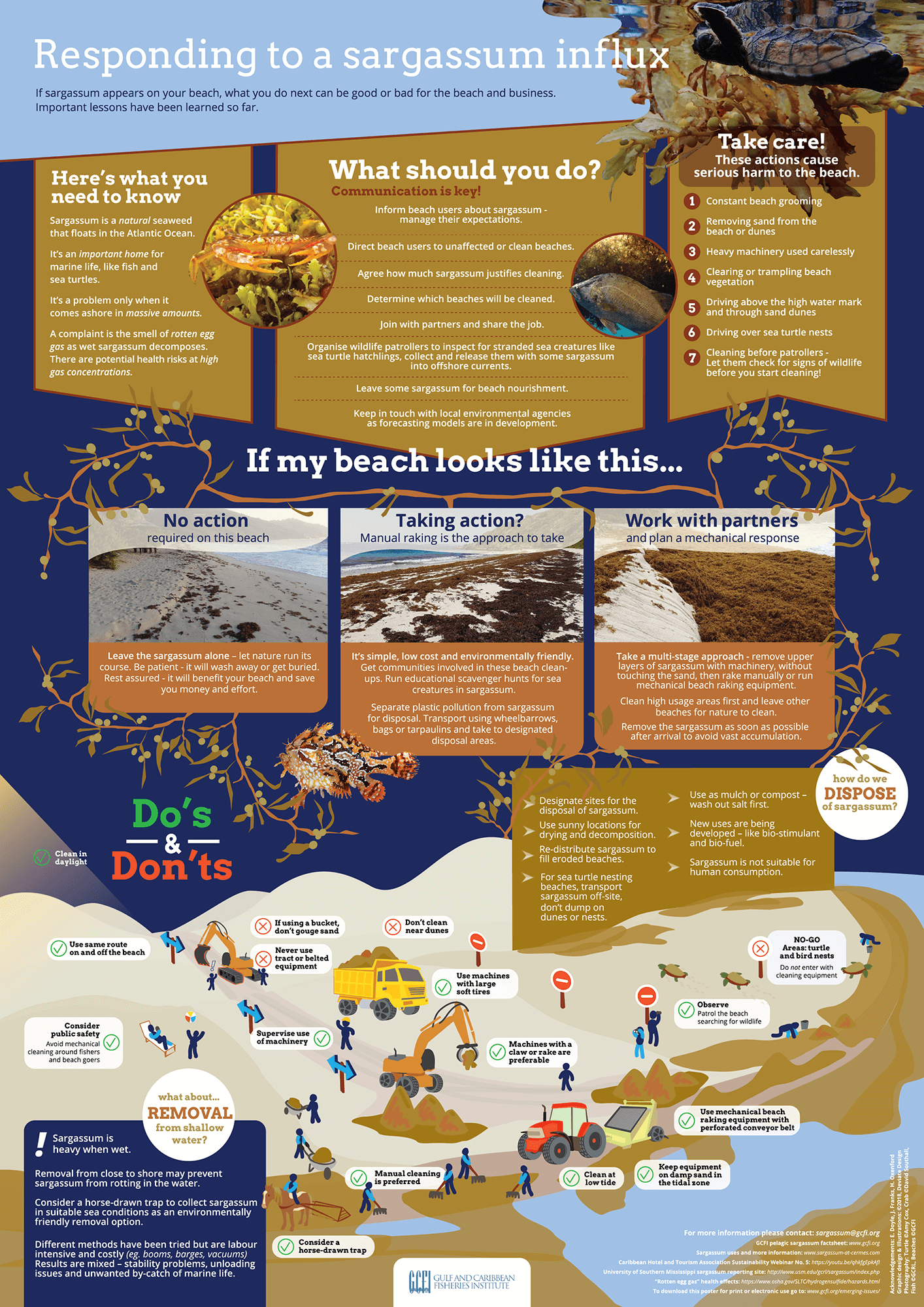 "What you need to know, advice on when to take action, what to do, and what not to do – the poster compiles lessons learned by many people and businesses across the region since 2011. It provides sound guidance on best practices for responding to the challenge of sargassum while protecting our beaches, the coastal environment and marine wildlife for a sustainable tourism future."
Go to https://www.gcfi.org/sargassum-influx/ to download the printable poster or a smaller digital file for electronic use. Please share the poster freely and widely. For more information please contact [email protected].   
https://www.gcfi.org/wp-content/uploads/2018/05/PRESS-SargassumTN.jpg
700
1000
Robert Glazer
https://www.gcfi.org/wp-content/uploads/2018/05/logo.jpg
Robert Glazer
2018-05-04 16:04:47
2023-03-30 23:23:03
Timely Guidance for Hotels and Resorts on the Sargassum Influx