---

Nassau, May 4, 2018 – The Grand Bahama office of The Bahamas National Trust hosted representatives from Belize and the British Virgin Islands for a visit to local protected areas and meetings with law enforcement agencies.
The visit is part of a programme of inter-agency meetings for representatives from protected area organizations and law enforcement agencies from three countries. Following meetings in Nassau, the international representatives visited Grand Bahama's national parks and met with local partner agencies involved in marine protected area law enforcement.
"With our counterparts from other Caribbean countries we're looking at future planning for our marine protected area enforcement programme. Lessons learned by other important national parks, such as the UNESCO World Heritage Site Belize Barrier Reef Reserve System, can help guide us as we address the challenges of safeguarding our natural resources," explained Mr. Ellsworth Weir, Grand Bahama Parks Manager for The Bahamas National Trust.
Organizations taking part in the visit are The Bahamas National Trust, the Department of Marine Resources and The Royal Bahamas Police Force, with representatives from the Belize Fisheries Department, Belize Audubon Society and the National Parks Trust of the Virgin Islands (British).
According to Mr. Weir: "Regional scientific monitoring confirms that effective marine natural resource enforcement serves to protect biodiversity and increase the number and size of commercially important fish, conch and lobster. Through spillover benefits this provides for enhanced fishing in areas outside protected areas."
"By sharing with our neighbours we're looking to strengthen our enforcement programme. We're applying new technology that's in use in other parts of the region and we're continuing to strengthen our partnerships with national law enforcement agencies," he added.
The meeting is an initiative of the MPAConnect Network which is comprised of marine protected areas in 10 Caribbean countries and territories, working in partnership with the Gulf and Caribbean Fisheries Institute and the US National Oceanic and Atmospheric Administration's Coral Reef Conservation Program, with funding from the US National Fish and Wildlife Foundation.
For more information please contact 242- 352-5438 or see www.bnt.bs.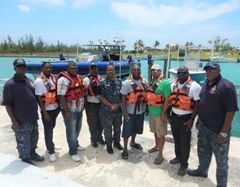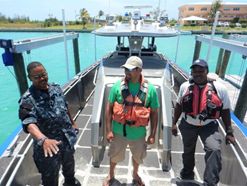 https://www.gcfi.org/wp-content/uploads/2018/05/BNT-Belize-RBPF-tour-EDoyle.jpg
960
1280
Robert Glazer
https://www.gcfi.org/wp-content/uploads/2018/05/logo.jpg
Robert Glazer
2018-05-07 15:08:00
2018-05-07 15:08:00
Caribbean National Park Managers visit Grand Bahama