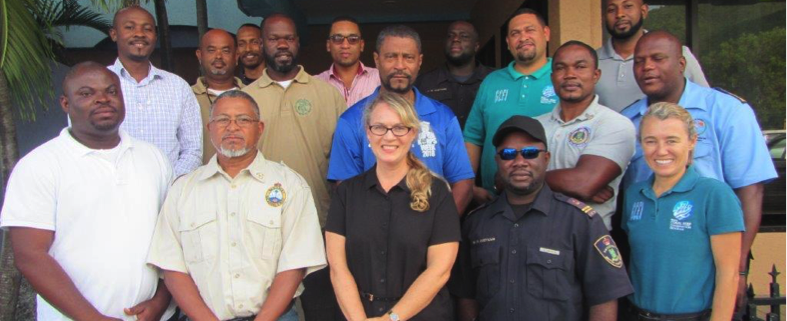 Road Town, British Virgin Islands, March 13, 2020 – Hosted by The National Parks Trust, representatives from protected area organisations and law enforcement agencies from six countries worked together to address programme planning and officer training in support of marine protected area law enforcement in the British Virgin Islands.
Organisations from the British Virgin Islands that participated in the meetings were The National Parks Trust, The Royal Virgin Islands Police Force, the Marine Police Unit and Customs Authority. In addition, other Invited international specialists were from Belize Fisheries Department, Belize Audubon Society, the Department of Environment and Coastal Resources of the Turks & Caicos Islands, The Bahamas National Trust, the Royal Grenada Police Force and The Netherlands Caribbean Police Force.
"With our local partners and with our colleagues from other Caribbean countries we're looking at future planning for our marine national parks enforcement program," explained Dr. Cassander Titley O'Neal, Director of The National Parks Trust.
"The challenge is to protect natural resources in the face of new and emerging threats which both we and our neighbours in the region face. We're strengthening our enforcement programme by partnering with territorial enforcement agencies to implement park laws and regulations, we're evaluating new technologies and we're building capacity through staff training in law enforcement," she said.
The international invitees assisted the British Virgin Islands as mentors in marine law enforcement, sharing experience from around the region to create new best practice materials and approaches.
Those who work on the frontlines protecting the Caribbean's marine resources have a vitally important, but also challenging job to do given ever-increasing threats to the marine environment from visitor pressure, boat groundings, pollution and poaching. Yet if we are to maintain the coral reef communities and the diverse marine resources that depend upon them, effective protection from illegal activities is essential.
A trainer from the Royal Virgin Islands Police Force who has been involved since the outset of the training added "We are seeing great strides forward in law enforcement capabilities in support of national park management in the territory. By increasing the pressure on those who purposely seek to violate natural resource laws, while at the same time educating those who may be unaware of rules and regulations, we send a clear and positive message in support of effective natural resource protection."
The activity was an initiative of the MPAConnect Network which is comprised of 32 marine protected areas in 11 Caribbean countries and territories, working in partnership with the Gulf and Caribbean Fisheries Institute and the US National Oceanic and Atmospheric Administration's Coral Reef Conservation Program to share best practices and experience among coral reef managers in the Caribbean region.
Please see here to access a copy of this press release in Spanish and English
For more information, please see https://www.gcfi.org/initiatives/mpa-capacity-program/ or contact [email protected].
https://www.gcfi.org/wp-content/uploads/2020/06/BVI_PR.png
590
787
[email protected]
https://www.gcfi.org/wp-content/uploads/2018/05/logo.jpg
[email protected]
2020-06-04 11:50:05
2020-06-04 12:03:46
International Mentoring for National Parks Law Enforcement