Assessing sustainable finance strategies for MPAs
In the 2011 MPA Management Capacity Assessment sustainable financing was identified as a key priority area amongst most of the MPAs (and 2nd highest capacity building need). Sufficient and reliable sources of funding are necessary to hire and retain staff, run boats for MPA enforcement, provide fuel and equipment, as well as support educational and scientific programs. As such, MPA financing was the topic of the first peer to peer learning workshop. The workshop was held from October 30-31, 2011 in Puerto Morelos, Mexico during the 64th annual meeting of the Gulf and Caribbean Fisheries Institute. At the peer-to-peer workshop, MPA managers from nine Caribbean nations and territories came together to share experiences related to developing and implementing sustainable finance strategies for MPAs.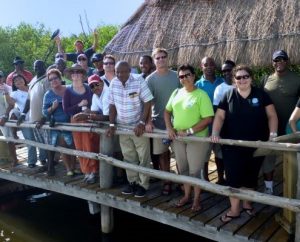 The workshop was facilitated by The Nature Conservancy's (TNC) Senior Conservation Finance and Policy Advisor for the Caribbean and organized in collaboration with TNC and the Caribbean Marine Protected Areas Management Network and Forum (CaMPAM).
Since the first peer-to-peer workshop we've learned that MPA financing is not just a question of building capacity and partnerships, but of finding creative and bold financing solutions that are unique to each site. Efforts to identify ecosystem services provided by MPAs, to determine the associated potential finance streams, to assess obstacles to the flow of funds and to develop possible solutions have been fruitful at site level, as has capacity building for MPA budgeting and forecasting. Communicating to decision-makers and stakeholders about the contribution of effectively managed coral reef ecosystems to local and national economies, and the need for investment to underpin effective management, is also a key part of the sustainable financing challenge.
As technical experts in protected area financing, Wolfs Company collaborates with MPAConnect to provide technical assistance on sustainable financing strategies to priority MPAs. Site-specific technical assistance by Wolfs Company and MPAConnect has so far included projects on MPA financing in the Turks & Caicos Islands, Belize and Honduras.