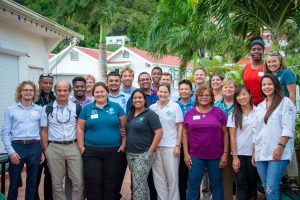 In the 2017 MPA management capacity assessment, fisheries management emerged as a new high priority capacity building need of Caribbean MPA managers, ranked as third highest capacity building need by participating MPA managers, up from eighth highest in the 2011 capacity assessment.
MPAConnect held a peer-to-peer learning exchange on fisheries management for Caribbean MPAs in September 2018 on Saba, in The Netherlands Caribbean. It was co-hosted by Saba Conservation Foundation and 25 participants from 10 countries and territories joined the learning exchange, including participants from the MPAConnect network and beyond.
The objective of the fisheries management learning exchange was to clarify each MPAs' fisheries management goals and explore the programmatic capacity that was needed to achieve these objectives, especially needs for monitoring and assessment to track achievement of the fisheries goals and inform fisheries management strategies. Chief among the representative MPAs' objectives were to support the sustainable harvest of commercially important species of fish and/or to maintain healthy diverse reef fish assemblages to support healthy coral reefs, including to benefit local tourism industries.
MPAConnect mentor Celia Mahung from TIDE Belize provided mentorship, and expert presenters included Dr. Ron Hill from the NOAA/National Marine Fisheries Service, Dr. Alejandro Acosta from Florida Fish and Wildlife Service, Dr. Eloy Sosa from El Colegio del Sur, Mexico and Dr. David Gill from Duke University. A total of 15 MPA managers benefited from the exchange, including managers from The Netherlands Caribbean (Bonaire, Sint Eustatius and Saba), Belize, Honduras, the Turks & Caicos Islands, the British Virgin Islands and the US Virgin Islands.
Co-funding was provided by the NOAA Coral Program, the US National Fish and Wildlife Foundation, WWF-The Netherlands, the Dutch Ministry of Agriculture, Nature and Food Quality, and WCS- Belize.