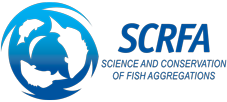 The SCRFA Student Travel Award of US$800 is available for a student working on fish aggregations in the Gulf of Mexico, Caribbean or eastern tropical Pacific Ocean to attend the GCFI 75 meeting in November 2022. The Award is to encourage and help students to work on fish aggregations and showcase their ideas and work in a talk at GCFI.
The student must meet the following criteria:
1. Be currently enrolled as a University student.
2. Be working on, or proposing to work on fish aggregations in the Gulf of Mexico, Caribbean or tropical east Pacific Ocean.
3. The application must be received by 31 July 2022, and include the following:
Short letter to SCRFA detailing the importance of attending GCFI
Abstract submitted to GCFI for a presentation (talk) which addresses any of the Award themes below
A letter from their major professor stating their current academic standing, and their progress toward their degree
SCRFA will make their decision by 1 September 2022. The student receiving the award:
Must let SCRFA know by 15 September, 2022 if they will attend the GCFI meeting.
Will be responsible for organising relevant travel including visas.
Will be eligible to compete for other GCFI awards.
Must attend the entire GCFI, give a presentation (talk) and will receive the award during the student award presentation at the GCFI meeting, with possible media.
Applications must be submitted by 31 July 2022.
Applications and further information enquiries are to be sent directly to Martin Russell ([email protected])
Award Themes
The proposed presentation and paper should be on current or proposed study on fish aggregations, addressing any of the following themes.
1. Education and Information
An important aspect of SCRFAs work is to significantly increase awareness of what fish aggregations are, why they are important for fish reproduction, coral reef health and as a basis for fisheries, why there are concerns over their future, and to highlight a range of solutions to ensure their long-term persistence. We believe that one of the biggest obstacles to better use of fisheries resources, including aggregating species, in many countries is a fundamental lack of understanding of how they work. For example, it is still believed in some areas that if catches decline locally the fish are still around but have moved elsewhere. Such misconceptions can make steps towards good management difficult.
2. Research and Monitoring
SCRFA aims to substantially improve general understanding of the biology and ecology of aggregating species, how they are important to coral reef health, how fisheries interact with them, and what are the possible approaches for ensuring healthy fisheries. This includes developing methods of biological study, and a scientifically robust approach to monitoring aggregating species and their associated fisheries.
3. Affecting Change
SCRFA works to improve awareness and management of fish aggregations through helping to affect change of perspective by managers, the general public and importantly by fishing communities. Historically, many aggregations have been the focus of seasonal or "bonanza" fisheries, an eagerly anticipated time for communal and low intensity subsistence activities. It is now evident that commercial exploitation can rapidly deplete these events, and it is an ongoing challenge to identify an appropriate and achievable management approach and facilitate a change of perspective regarding their use and need for management. For example, complete protection of aggregations may be applicable if there are demonstrated impacts of fishing on reproductive output, such as disruption of spawning, fishing cannot be controlled by conventional fisheries management, and a community understands the benefits of protection. Alternatively, it may be more efficient and acceptable to focus management using conventional management tools, such as quotas, effort control, gear restrictions, closures, sales bans and fish size limits. Affecting change requires a good scientific basis and appropriate outreach.
Awards have previously been won by: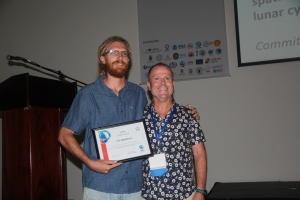 Eric Appeldoorn (University of Puerto Rico) – 2018
Carlos Zayas Santiago (University of Puerto Rico) – 2017
Lynn Waterhouse (Scripps Institution of Oceanography) – 2016
Chris Biggs (University of Texas at Austin Marine Science Institute) – 2015
Tim Rowell (Scripps Institution of Oceanography) – 2014
Ashley Ruffo (University of Virgin Islands) – 2013