The RONALD L. SCHMIED GCFI SCHOLARSHIP
A travel award dedicated to aiding a student studying recreational fisheries.
About Ron Schmied (1949-1996)
Ron Schmied worked as a fisheries biologist for  NOAA National Marine Fisheries Service from 1978 until his passing in 1996. In the early days, he was charged with developing a regional program to encourage the growth and stability of saltwater recreational fisheries in the southeast U.S. Not only was this a first of its kind but it was accomplished at a time when there was resistance to the very concept of recreational fisheries. Beginning in 1982, he assumed the position of Special Assistant to the Regional Director for Recreational Fisheries in the Southeast Regional Office in St. Petersburg, Florida. In that capacity  he helped establish agency policy and program guidance on recreational fisheries, acted as the agency spokesperson on recreational fisheries issues, stimulated recreational fisheries research agendas, and opened lines of communication with recreational fishery organization and industry leaders. In short, he was "Mr. Recreational Fisheries" for NMFS for over 18 years. Many of the programs and ideas he implemented in the Southeast were replicated elsewhere in the agency.
Ron had a holistic view of recreational fisheries that transcended the boundaries of a single discipline. He understood the need for fisheries management to be responsive to stakeholders and was committed to making it so. He understood what it meant to be a team player, and was interested in producing workable solutions. Ron had a great sense of humor and always made people feel good about themselves. Most of all, he was a professional in every sense of the word. Ron was an avid supporter of the Gulf and Caribbean Fisheries Institute. He attended many GCFI annual meetings, organized sessions on marine recreational fisheries and tourism, and always presented thoughtful and stimulating papers. It was his favorite meeting because it was practical in orientation and an easy place to talk "shop" and make friends. This scholarship is offered in memory of a great friend of GCFI and supports travel for a qualified graduate student studying aspects of recreational fisheries to participate in the annual meeting of the GCFI. Since students are the life blood of any educational organization, the intent of this scholarship is to make it possible for the next generation of fishery professionals to experience the benefits that come with participation in international meetings in the Gulf of Mexico and Caribbean region.
Sponsors
The Ron Schmied Scholarship is a GCFI initiative supported by the International Game Fish Association as well as numerous private individuals.


Applying for the Award
AWARD APPLICATION SUBMISSION DEADLINE –  Extended to July 1, 2023
Purposes: To financially assist graduate students interested in marine recreational fisheries who might otherwise not be able to attend the annual Gulf and Caribbean Fisheries Institute (GCFI) conference. To provide encouragement to the next generation of students and young professionals interested in marine recreational fisheries.
Description: At least one $1,500 scholarship will be awarded annually to help cover the costs of airfare and lodging to attend the annual GCFI conference, with the remainder of the stipend to be used to cover the student's discretionary research‐related expenses.
Eligibility Requirements: Applicants for this award must be currently enrolled and in good standing in a college or university degree program in the wider Caribbean or in one of the adjacent Gulf of Mexico states (Mexico and the United States) or be a student in good standing at any college or university and engaged in a research project in the Gulf of Mexico and wider Caribbean region. Only applicants with a social, economic, ecological, or management perspective on recreational fisheries will be eligible to receive this award.
Documentation Required: An application letter from the student nominee that includes: student's name, address, telephone number, e‐mail address, educational institution, department, degree level, a short description of current research in marine recreational fisheries, involvement with recreational fisheries topics/issues and related achievements, any particular reason for attending the GCFI meeting (paper presentation, pertinent paper session, meet with a faculty member at another institution attending the meeting, etc.), statement of career goals in fishery science or management, and reasons why financial assistance is needed. Additional requirements are a vita, a confidential letter of endorsement from a faculty member from the applicant's home institution/department, and an ABSTRACT of an oral or poster presentation submitted for the GCFI Conference. Note: to be eligible for this Scholarship applicants must fill out the Abstract Submision Form located on the GCFI conference web page. Completed application with all supporting paperwork, including a copy of the abstract, must be sent to [email protected] and must be received by the Student Awards Committee by July 1, 2023.
Selection Criteria: Selection of the awardee by the Ronald L. Schmied Scholarship Committee will be based on a review and assessment of information submitted by applicants. Students will be notified of final selection decisions shortly after.
Past Awardees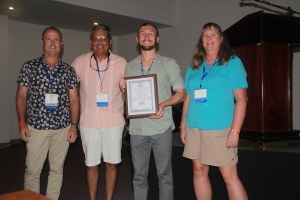 The scholarship has been awarded annually since 2006. The past winners include:
2019 – Jashira Torres (North Carolina State University)
2018 – Derek Bolser (University of Texas at Austin)
2017 – Stacey Weinstock (College of Charleston)
2016 – Trevor Moncrief (University of Southern Mississippi)
2015 – Orian Tzadik (University of South Florida)
2014 – Hillary Glenn (Louisiana State University) and Sonia Ahrabi-Nejad (Nova Southeastern University)
2013 – Alex Fogg (University of Southern Mississippi)
2012 – Jeremy Higgs (University of Southern Mississippi)
2011 – No recipient
2010 – William Smith (Texas A&M University)
2009 – Kelly Kingon (Florida State University)
2008 – Vanessa Haley (Florida International University)
2007 – Christopher Hawkins (University of Massachusetts)
2006 – William Daley (University of Texas)
Help Support the Scholarship
The GCFI is a 501(c)(3) non-profit organization and all contributions are tax deductible. Checks should be made payable to the Ronald L. Schmied Scholarship Fund and forwarded to the Gulf and Caribbean Fisheries Institute, c/o Mel Goodwin, PhD, PO Box 21655, Charleston, SC 29413 for processing. Information on awardees will be provided on this webpage.
For more information on the Schmied Scholarship, please email Dr. Jim Franks.